Introduction to the ds9 Interface
Return to the DS9 Users Manual
---
Synopsis
This thread provides an overview of the key components of the ds9 graphical user interface (GUI).
If you encounter any problems, please email ds9help @ cfa.harvard.edu.
---
---
This thread uses Chandra data from an observation of the Trapezium Cluster (ObsID 1522). The default ds9 GUI is shown in Figure 1. The main components are numbered:
Menu bar
Information panel
Panner
Magnifier
Buttons
Display frame
Colorbar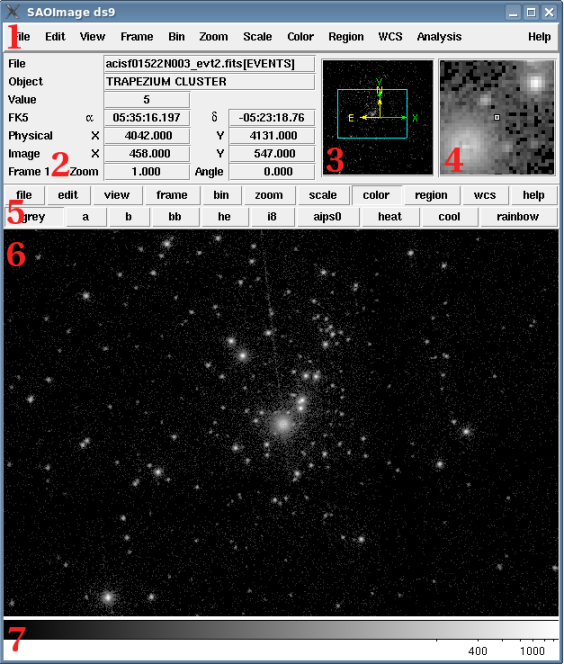 The default setup is a "horizontal layout", with the information panel, panner, magnifier, and buttons displayed horizontally across the window. This may be changed to "vertical layout" in the View menu (Figure 2).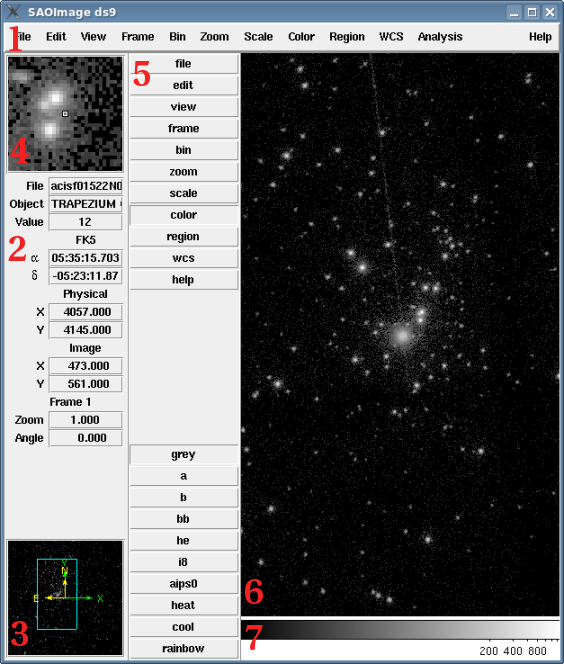 Note that the colorbar remained horizontal at the bottom of the display frame. This may be changed with the "vertical colorbar" option in the "View" menu.
---
All of the view options described in this thread can be set and saved as a preference. Open the "Preferences" dialog box from the "Edit" menu and select the "View" tab, shown in Figure 11.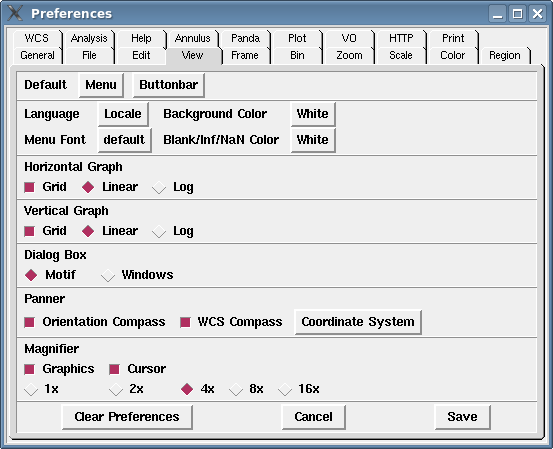 The "Default" menus are used to set the defaults of the "View" menu and buttons. For instance, uncheck the "Panner" item under "Menu" and the panner won't be displayed when ds9 is launched. (Note that some options require ds9 to be restarted before they take effect.)
After setting the desired preferences, select "Save". User preferences are stored in .ds9.prf. At startup, ds9 looks for the preferences file in the following directory order: ./, $HOME, /usr/local/lib, /opt/local/lib.
---
| | |
| --- | --- |
| 06 Jul 2009 | Original version |
---
Return to the DS9 Users Manual